Nebuchanezzar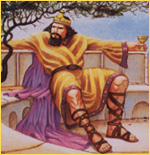 Nebuchanezzar was born in
635 B.C.E
to King Nabopalssar of Babylon. There is little known about this future kings early life.
610 B.C.E-Nebuchanezzar becomes the leader of his father's military.
605 B.C.E- King Nabopalssar dies and Nebuchanezzar takes power and launches an attack against Egypt and is successful. Through this military success he gains more power, both militarily and politically.
601 BCE- launches another attack against Egypt, however, this time is defeated by King Necho II. He sufferes serious losses

597 BCE-launches a full out attack against upstart Judah by attacking its largest city Jerusalem. He defeats Judah, conquers King Jehoiakim, and took the captives back to Babylon and made them slaves with some freedoms.

571 BCE- Sends his troops against Egypt once again, and this time conquers the city Tyre, which greatly extends his empire and adds wealth.

Throughout his reign there were many uprisings by the slaves that Nebuchanezzar suppressed.
There is little known about his final years. He died
562 BCE
, and his son takes power.
Nebuchanezzar is not only known for his military endevours. Nebuchanezzar also beautified his city. He his most famous for creating the Hanging Gardens of Babylon and the Gate of Ishtar.

Back to the Main Page