3 Major Events in Pontius Pilate's Life

Some standards [gilt shields] bearing the image of Tiberius, which had been set up by him in Jerusalem, caused an outbreak which would have ended in a massacre had not Pilate given way. At a later date Tiberius ordered him to remove certain gilt shields, which he had set up in Jerusalem in spite of the remonstrances of the people.

Pontius Pilate Condems Jesus to death.

Jesus Trial before Pilate

11 Now Jesus was standing before Pilate, the Roman governor. "Are you the King of the Jews?" the governor asked him.
Jesus replied, "Yes, it is as you say."
12 But when the leading priests and other leaders made their accusations against him, Jesus remained silent.
13 "Don't you hear their many charges against you?" Pilate demanded.
14 But Jesus said nothing, much to the governor's great surprise.
15 Now it was the governor's custom to release one prisoner to the crowd each year during the Passover celebration--anyone they wanted.
16 This year there was a notorious criminal in prison, a man named Barabbas.
17 As the crowds gathered before Pilate's house that morning, he asked them, "Which one do you want me to release to you--Barabbas, or Jesus who is called the Messiah?"
18 (He knew very well that the Jewish leaders had arrested Jesus out of envy.)
19 Just then, as Pilate was sitting on the judgment seat, his wife sent him this message: "Leave that innocent man alone, because I had a terrible nightmare about him last night."
20 Meanwhile, the leading priests and other leaders persuaded the crowds to ask for Barabbas to be released and for Jesus to be put to death.
21 So when the governor asked again, "Which of these two do you want me to release to you?" the crowd shouted back their reply: "Barabbas!"
22 "But if I release Barabbas," Pilate asked them, "what should I do with Jesus who is called the Messiah?"
And they all shouted, "Crucify him!"
23 "Why?" Pilate demanded. "What crime has he committed?"
But the crowd only roared the louder, "Crucify him!"
24 Pilate saw that he wasn't getting anywhere and that a riot was developing. So he sent for a bowl of water and washed his hands before the crowd, saying, "I am innocent of the blood of this man. The responsibility is yours!"
25 And all the people yelled back, "We will take responsibility for his death--we and our children!"[2]
26 So Pilate released Barabbas to them. He ordered Jesus flogged with a lead-tipped whip, then turned him over to the Roman soldiers to crucify him.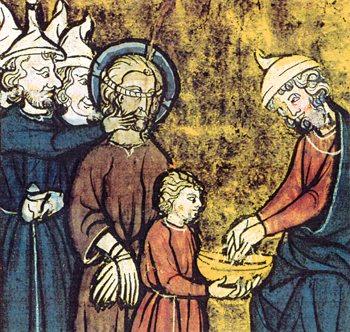 Matthew 27

His rule was brought to an end through trouble which arose in Samaria. An imposter had given out that it was in his power to discover the sacred vessels which, as he alleged, had been hidden by Moses on Mount Gerizim, whither armed Samaritans came in large numbers. Pilate seems to have thought the whole affair was a blind, covering some other more important design, for he hurried forces to attack them, and many were slain. They appealed to Vitellius, who was at that time legate in Syria, saying that nothing political had been intended, and complaining of Pilate's whole administration. He was summoned to Rome to answer their charges, but before he could reach the city the Emperor Tiberius had died. This led to the death of Pontius Pilate