The Life of King David
Born: 1032 b.c.e.

Bethlehem, Judah
Son of Jesse, descendant of Ruth
Goliath: 1049 b.c.e.

At age 17, David was summoned by King Saul to come to the battle feild and play music. At the time, the Israelites were fighting the Philistines. One obnoxious Philistine soldier, Goliath taunted the soldiers of Israel and dared for them to send their strongest soldier to fight in one-on-one combat. Goliath was 10.5 feet and therefore without delay, exposed the offer. When David heard the insults he took great offense and felt the need to do something. He willingly went into battle with his sling, pepples, and his staff. Goliath laughed at the offer and mocked the very small David. As Goliath Approached, David reached for a stone and slung it at Goliath's head. When he fell David cut off the head of Goliath with Goliath's sword. This voctory was one of David's first moves toward fame.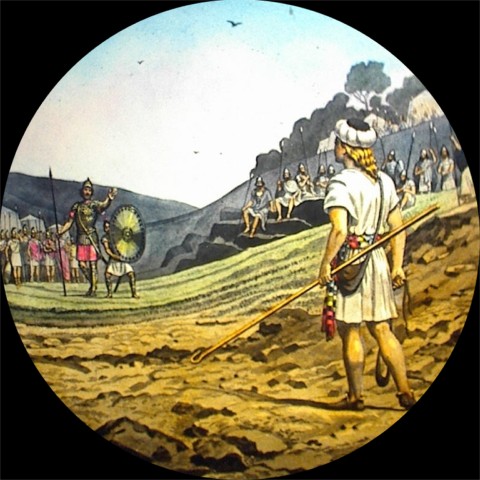 Anointed as King

Early in life, the prophet Samuel anoineted David to be king of Jerusalem when Saul died. At first, David was in favor of Saul and was a soldier and musician in his army. Yet as he bacame older, Saul conspried against David through Jeolousy. David and others against Saul fled to the Philistines; they hid in Caves by the Dead Sea, such as En-Gedi. David once was goven a chance to kill Saul and take the thrown but he refused because of his strong character. Finally Saul passed away in battle and David became the king of Judah. Soon enough, all the other tribes accepted David and he was king over the whole nation.
Events During Kingship
On the East bank of Jordan, David fought against the neighbors of Israel. These defensive wars ended in the establichment of the new Davidic empire which eventually spanned from both sides of the Jordan to the Mediterranean. In these wars, David defeated the Moabites, the Edomites, the Ammonites and the Arameans. The enforced justice in this new empire was greatly structured around that of the Egyptians and the Caanaites. Enforced taxes over the new vast empire, this was the taxation structure later followed by David's son Solomon.

Declaring Proper Son Kingship

When David was growing old and falling sick, Adonijah, David's eldest son, declared the kingdom of Jerusalem. David halted this action because he had told Bathsheba, on of his wives, that her son Solomon would become king. David announced this publicly. Adonijah ran to an alter to repent for his sin but Solomon saw him there and pardoned.


HOME