There are many examples of the vast and elaborate public works created during the Han Dynasty. The most famous one being the Great Wall of China, one of the forgotton wonders of the world. The fact that government required civil service from its citizens lead to elaborate and extensive public works, and allowed easy and prosperous Han soceity.
The biggest example of public works in Han China was the Great Wall. It was first built during the Zhao dynasty, and fortified to its size between 770-476 BCE. Ever since its creation during the warring states period, the Great Wall had been worked on and modified by the various Chinese dynasties. During the Han Dynasty, when Emperor Wu was leading military campaigns against Xiongnu, he drove them Xiongnu soldiers out of the Han territory. For lasting protection, the emperor ordered extensions of the wall in three places, and the construction of various defense towers. Used as a military defense system for so many years, the Great Wall of China still exists today, and is one of the most popular tourist actractions in all of China.
Also during the Han Dynasty, the both prosperous and famous Silk Road was constructed. It was created during campaigns against the Xiongnu, for military purposes rather that trade. Messengers were sent, such as a man named Zhang Qian, to search for allies in the West, but were usually captured by the Xiongnu. After superpowers like the Romans and the Persians began favoring Han products, such as pottery, jade, and most of all silk, trade began to boom on this road. As the Han Dynasty began to decline, however, so did this prosperous road, and thus ending the powerful commerce between Han and the outside world. During the time of the Silk Road, a Golden Age was reached, and the Han's relationship with other world powers was the best that it ever was.
Aside for collosal monuments, such emperors as Emperor Wudi made efforts for smaller internal improvements. During his reign, he pushed for improved roads and canals, as well as storage of grain and other agricultural products. Efforts like these were made all during the Han Dynasty, only improving the qualitity and efficiency of daily life in Han China.



The Great Wall of China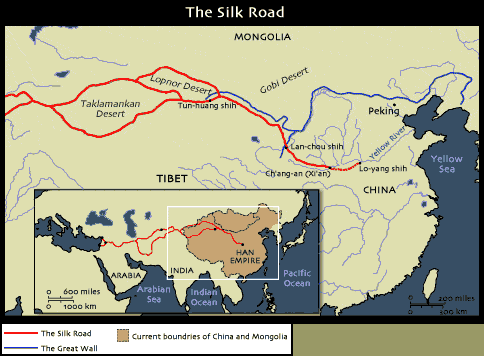 Map of Silk Road